---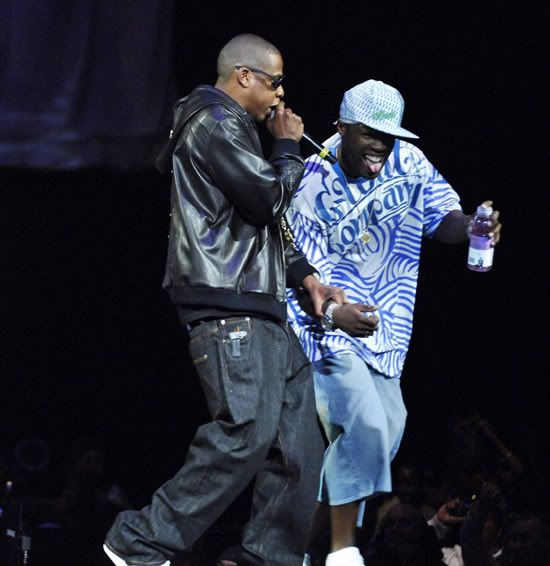 The Beef: 50 Cent vs. Jay-Z

Why They Had Beef: During a BBC radio interview in 2009, Jay made a comment about how no one is scared of 50 Cent. That ignited a war of words (mostly on 50's end) between the two and resulted in 50 taking a lot of public shots at Jay.
How They Made Up: We're not really sure. But, in 2010, a shot of Jay and 50 talking at Eminem and Jay's "Home & Home" show in Detroit surfaced and 50 revealed that everything was cool between the two. "We got a chance to kick it for a minute," 50 said. "I know people were interested in what that conversation was like. But, they can ask Jay-Z. I take people's actions as if it's genuinely how they feel. I can only use what I saw you do as if that's what you meant. I can't understand what your motivation was prior to that." Um, OK? Whatever the case, this beef is over.
The Beef: 50 Cent vs. Oprah

Why They Had Beef: Fif claimed he was upset with O because she said his music represents everything that's wrong with today's culture. So, he went on to name his dog after her.
How They Made Up: 50 appeared on "Oprah's Next Chapter" back in June and patched things up with her. He even explained why he named his dog after her. "I love you," he said. "You know they say a dog is a man's best friend."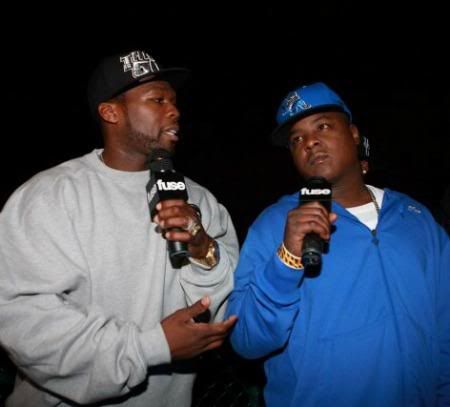 The Beef: 50 Cent vs. Jadakiss

Why They Had Beef: Fif was upset with Jada for jumping on Ja Rule's 2004 single, "New York." So, he included some shots at him on his diss track, "Piggy Bank," and continued taking shots at him for several years.
How They Made Up: In 2008, the two spoke and agreed to end their beef. "We hollered like grown men," Jada said. "We kicked it. Hopefully, there'll be a good outcome from this."
The Beef: 50 Cent vs. T.I.

Why They Had Beef: In late 2011, 50 made a comment about Tip's 2010 drug charges and said that he thought T.I. should have let his wife Tiny take the rap for them. That led to a month-long Twitter battle between the two.
How They Made Up: Eventually, cooler heads prevailed and 50 and T.I. worked out their differences with a phone call. "We got into it," 50 said later, "and he had a lot of legitimate points."
The Beef: 50 Cent vs. Diddy

Why They Had Beef: In 2008, Fif recorded a song called "Hip-Hop" suggesting that Diddy knew who k!lled Biggie. He wasn't happy that Diddy wouldn't let Mase out of his Bad Boy contract so that he could sign with G-Unit.
How They Made Up: After trading words through the media, the pair called off their beef during an appearance on MTV's "TRL." They've had other disagreements since then (50 once said that Diddy's music "sucks") but they aren't beefing with one another right now.
The Beef: 50 Cent vs. Ciara

Why They Had Beef: In early 2011, Fif and Ci-Ci engaged in a Twitter war that started after 50 referred to some of his female followers as "beyotches." It resulted in a vicious back-and-forth between the two.
How They Made Up: Although they've continued to throw subliminal jabs at one another, they made up on that particular day courtesy of a link that Ciara put up to Queen Latifah's "U.N.I.T.Y." 50 agreed to let the beef go.
The Beef: 50 Cent vs. Cam'Ron

Why They Had Beef: In 2007, 50 and Cam started beefing after getting into a live argument during Angie's Martinez's Hot 97 radio show. It led to a series of diss records and shots fired by both sides.
How They Made Up: They never formally squashed their beef. But, during an interview with MTV in early 2011, k!lla Cam admitted that he was over it. "I don't have no problem with 50," he said. "50 cool with me…We had our little hip-hop beef or whatever you wanna call it but ain't no problem."
The Beef: 50 Cent vs. Lil Wayne

Why They Had Beef: In 2007, there were a lot of rumors floating around about both artists having diss tracks prepared for one another. 50 released his first in August by dropping "Part Time Love." And then, Wayne responded (inadvertently) when a song called "Louisianimal" leaked in November without his permission. So, 50 fired back the following January with "Play This On The Radio."
How They Made Up: This beef didn't really have any legs since both artists were bickering over, well, nothing. It ended unceremoniously in August 2009 when 50 appeared at one of Wayne's "America's Most Wanted" tour stops.
The Beef: 50 Cent vs. Dr. Dre

Why They Had Beef: Okay, okay, so this wasn't exactly "beef." But, 50 did make some derogatory comments about the Beats By Dre headphones line last year while promoting his Sleek By 50 headphones that raised a few eyebrows.
How They Made Up: 50 later said that he wasn't taking shots at Dre—just sticking up for his own headphone line. "It depends on how you look at it," he said. "The [headphone] category itself, how big is it? Is he in direct competition with me or Bose or Sony? At this point, it's just me creating what I feel like is the higher standard. This is what I sit in the studio for after recording for the mastering process, to feel like it's completely up to par and standard, so when people hear it, it registers the right way." Oh, 50. Such business savvy!
The Beef: 50 Cent vs. Game

Why They Had Beef: Which time? Over the years, 50 and Game have beefed multiple times, most notably back in 2005 when 50 kicked Game out of G-Unit after the release of his debut album. The beef has continued for seven years now with both sides periodically taking shots at one another.
How They Made Up: Shortly after they started beefing in '05, 50 and Game held a joint press conference in Harlem and called a truce. It didn't last for very long. But, hey: At least they tried! Maybe one day they'll be able to call their beef off for real. After reading about some of these other beefs that have been squashed, you never know, right?
How dead these beefs are only 50 would know the answer to that.
Vibe |
---