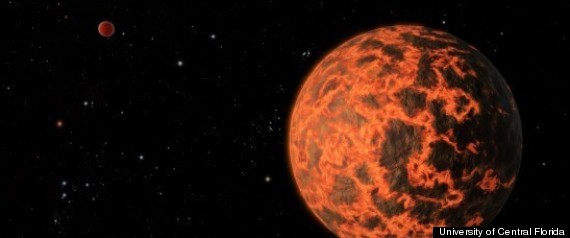 Scientists have discovered what appears to be an alien planet just two-thirds the size of Earth, a heat-blasted world perhaps covered in molten lava, a new study reports.
Astronomers discovered the newfound alien planet, known as UCF-1.01, using NASA's Spitzer Space Telescope. The diminutive world is just 33 light-years away, making it a near neighbor of Earth in the cosmic scheme of things.
"We have found strong evidence for a very small, very hot and very near planet with the help of the Spitzer Space Telescope," study lead author Kevin Stevenson, of the University of Central Florida (UCF) in Orlando, said in a statement. "Identifying nearby small planets such as UCF-1.01 may one day lead to their characterization using future instruments."
UCF-1.01 remains a planet candidate — rather than an officially recognized planet — because researchers have yet to measure its mass. But the discovery team thinks it's the real deal.
"Despite the lack of a confirmed mass, the team is confident future observations will verify our findings," said co-author Joseph Harrington, also of UCF. [Gallery: The Smallest Alien Planets]
Read more from the Full Article:
'Lava' Alien Planet UCF-1.01, Smaller Than Earth, Seen By NASA Spitzer Space Telescope
We lost pluto as a planet, but no worries... we got us another one