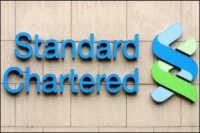 SAN FRANCISCO (MarketWatch) — U.K. regulators' money-laundering allegations against Standard Chartered PLC will test regulators' tolerance that until now has been surprisingly forgiving.
StanChart UK:STAN -16.43% , as it's known in the U.K. market, is alleged to have laundered $250 billion for Iran between 2001 and 2007, according to the British and American regulators. Read full story on the money-laundering allegations at Standard Chartered .
StanChart stands accused
Breakingviews: Standard Chartered's cultural questions - YouTube
New York's top banking regulator threatens to strip U.K. bank Standard Chartered of its banking license over alleged dealings with Iran.
Considering that not a single Wall Street or City of London player has been imprisoned over fraud committed in the financial crisis, it will be interesting to see what sort of tolerance is given to a financial institution that does business with a sworn enemy of the West.
Standard Charter's prospects do not look good. First, reports suggest the bank engaged in the laundering scheme for six years, that it received approval from the highest levels of the bank, and that the fraud was a systemic enterprise.
That means that, unlike other laundering scandals that have hit rivals including HSBC PLC HBC +1.40% this year and Bank of New York Mellon BK +2.92% a few years ago, the actions in question don't seem to be easily washed away as oversight failings.
Indeed, the size of the scheme suggests that StanChart just may have perpetrated the biggest money-laundering scheme in a generation, if not in history.
Standard Chartered said it contests and "strongly rejects" regulators' characterization. But it's not the bank that has set itself up. Regulators, by painting such a sinister picture, now have to live up to their accusations by following through with fines, charges and arrests.
Unless they consider financing terrorism on par with wrecking the economy and defrauding customers. Then, it's a case of no harm, no foul.
Source
Standard Chartered will test a new line - MarketWatch First Take - MarketWatch