My self-imposed hiatus is all but over at this point. Expect more reviews more frequently in the coming weeks... starting with this one.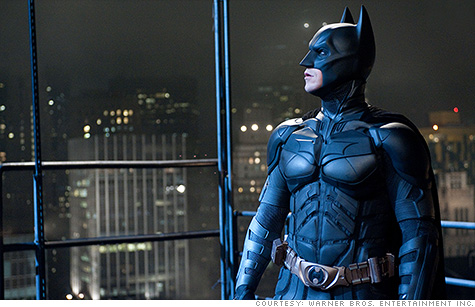 Christopher Nolan's "The Dark Knight Rises" comes to us in a curious time in history. We're in the midst of a reelection, while financially the U.S. struggles. Batman's world has always, even in the crazier eras of the comics, been a mirror held up to our own world, our problems, our concerns. Batman, as a character, presents to us a superhero born out of tragedy, but forged from relentless will & hope.
Batman resonates so deeply with fans because he represents a symbol of hope, no matter how dark or incredibly scary the world around him seems to become. Batman isn't just wide-eyed hope & optimism, but a sense of hope that is more palatable to our world and our concerns as a society. More than almost any other superhero, he has earned his place as a cultural icon. Nolan's Batman taps into our world and our societal concerns more than any other iteration of Batman. That's what has made his Batman films more than just comic book films.
And, here we reach something that almost never happens. A trilogy ender that is made with the purpose of ENDING the series. So many sequels just keep blowing up the balloon of "stories" to the point that sequels feel more episodic in nature. With this film, it is clear that it is all a part of one story. Nearly every element introduced in this series meets a satisfying resolution here. While I hesitate to call it the best of the franchise even after my 2nd time seeing it, it is STILL a more-than-worthy conclusion to a compelling and dramatically rich saga of films that we'd never thought would ever involve Batman.
So, we meet up with Bruce Wayne/Batman (Christian Bale) some 8 years after taking the blame for Harvey Dent's murks, and has since become a recluse. However, Selina Kyle's (Anne Hathaway) thefts rips him out of his blanket of apathy, and he decides to come back into the real world. As a result of his absence, Wayne Enterprises has fallen on hard times, and Lucius Fox (Morgan Freeman), along with Miranda Tate (Marion Cotillard), begin to mount a plan to save Wayne Enterprises. But, this comes at a time when Bane (Tom Hardy) invades Gotham City with a plan to destroy it. Now, Bruce Wayne must don the cape & cowl whether he is ready or not in order to save the city.
This installment is the darkest and most emotional of the trilogy. Christian Bale brings something extra to the role of Bruce Wayne that I haven't seen him bring out before. That this guy is truly hurt & hopelessly alone even if he "isn't". Joseph Gordon Levitt's character John Blake seems to understand Bruce Wayne better than most. It's great how these two characters interact, and it makes for some very interesting choices in the 3rd act. Also, Michael Caine is better than he has ever been as Alfred. Michael Caine brings such an emotional honesty that makes the stakes feel alot higher, and his relationship with Bruce Wayne is more strained the ever.
There is a sense of finality to this film. Elements introduced from the previous films tie into this one in very big ways. Though the story takes place after "The Dark Knight", TDKR is more thematically similar to Batman Begins. In Bruce Wayne's story arc, it sees him grappling with the same emotional issues he dealt with in Batman Begins. In reality, however, this is much larger than just Bruce Wayne's story. It's Gotham City's story. Gotham City feels so much bigger than it did in the previous films, and it acts almost as a character in the film (thanks to jaw-droppingly beautiful cinematography from Wally Pfister). It's like a slice of life in a city that is seemingly pristine, yet rotten from the inside out. Gary Oldman does his best work as Jim Gordon, simultaneously living in deep guilt about his lie, yet unwilling to trust Gotham City with the truth. Peaceful yet corroded in ways that only Bane can expose.
Tom Hardy's performance as Bane is remarkable. Bane has a towering & terrifying presence. Ruthlessly efficient, fiercely articulate, and brutally strong, he presents a challenge to Batman unlike any we've seen. One could make the argument that he may not be as charismatic as Heath Ledger's "The Joker", but I'd argue it is that element alone that makes Bane such an interesting villain. He's a villain who feels like he could actually exist in our world, and the things that happen in the film could be possible. That is a terrifying prospect. Anne Hathaway also does great work as Selina Kyle, yet at the same time, I feel the movie needed more of her. She brings a certain levity to the proceedings the same way that The Joker brought a very sardonic yet welcome sense of humor to the pitch darkness of the film.
Make no mistake about it, this movie is VERY dark. For some, it may be too dark. For me, I had almost no problems with the heaviness of this film's themes... Almost. The problem has nothing to do with the film's darkness, yet has more to do with the film's pacing. There is a lag in the first act, and while there are interesting things happening and the performances are wall-to-wall excellent, it still feels like the film is missing something for the first act. And, I realize what that something is.
Batman.
I wasn't kidding when I said it is more akin to Batman Begins than The Dark Knight. This is mostly due to the fact that Batman doesn't show up until the 45 minute mark. And, his appearances as Batman aren't as plentiful... just like Batman Begins. And, there are pacing problems... just like Batman Begins. And, there is one (and only one) weak female performance... just like Batman Begins. And, that weak performance is from Marion Cotillard as Miranda Tate. Maybe what makes it weak is the fact that I accurately predicted what would be the ultimate fate of that character, and having that in the back of my mind throughout the film's almost 3 hour runtime made her character ultimately feel shallow... until the last 45 minutes.
Maybe I'm being a little too harsh on the movie, because this film is remarkable. This is truly epic, mature, and supremely majestic filmmaking. With the cast of thousands feel, the huge broad canvas, the profound themes, the emotional complexity, and the grandness of the action scenes, this movie is more than just a superhero film. This is truly epic-scale filmmaking, the kind of film Hollywood no longer makes. It's truly remarkable.
I'll be honest, the first two thirds of the film... I really liked it, but wasn't head-over-heels in love like I was with TDK. However, the final 45 minutes had me completely & totally. It builds to a conclusion INFINITELY more satisfying than maybe any movie I've seen in the last 3 years. It is at the film's final moments that it unleashes all of its emotional fury, all the best action, all the best performance, Hans Zimmer's score, everything. It was almost more than I could take. I don't think there was any person in the theater who wasn't on the verge of tears by the end of the film. Truly remarkable.
What Nolan has done with these films will be remembered for years to come. Batman has a legion of die-hard fans, passionate & faithful... sometimes to a fault (the rottentomatoes debacle from last week was NOT a good look). Like Batman himself, and the times we live in, these films are steeped in tragedy. To the point that these films never had the chance to be just films, and have elevated up to an unsettling mirror of our real world concerns. This past friday, that mirror shattered, and we were all witnesses to a terrifying dosage of reality. But, like Batman himself, there is a glimmer of hope. "The Dark Knight Rises" is a reminder that, no matter how entrenched in tragedy we seem to be, there is always hope.
"The Dark Knight Rises", while not better than the previous installment to the franchise, is still a very much worthy conclusion to an incredible trilogy. Deeply disturbing yet oddly profound, Christopher Nolan has created the quintessential epic that reflects our times. And, in an age of digitized popcorn fluff, what more could be asked of him?
SCORE: 9.0 (out of 10) = DOPENESS
Check out some of the other reviews from fellow BX residents:
My review of TDKR
theFREAK's review of The Dark Knight Rises