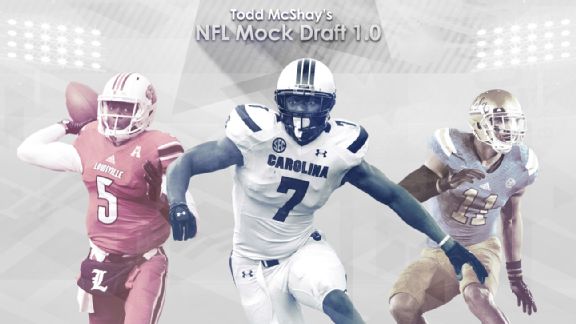 1
Teddy Bridgewater*
Houston Texans (2-12)
COLLEGE: Louisville
AGE: 21
HT: 6-2
WT: 220
POS: QB
Analysis: This is a tough call right off the bat. I have Bridgewater ranked as the top quarterback prospect in this class, but just ninth overall. The question for the Texans is going to be this: Do you have a player at another position who grades out considerably higher? (Possibilities include Texas A&M OT Jake Matthews or South Carolina DE Jadeveon Clowney.) Because if not, given their need at QB and the importance of that position, my guess is that they'd talk themselves into taking Bridgewater -- or whichever QB ranks highest on their board in May.
Bridgewater has great football intelligence, is mentally and physically tough, and has proved he can beat opponents from inside the pocket; he can read defenses, has a quick release and is very accurate. If he isn't the top overall pick, it'll be because of questions about his durability. He'll also need to hold off UCF quarterback Blake Bortles during the draft process. Bortles isn't as polished as Bridgewater but does have a higher ceiling.
2
Jake Matthews
St. Louis Rams (6-8) (From WAS)
COLLEGE: Texas A&M
AGE: 21
HT: 6-5
WT: 309
POS: OT
Analysis: St. Louis owns this pick as part of the trade that brought Robert Griffin III to Washington during the 2012 draft. If this year's QB draft class were on the same level as that one, which had two elite prospects in RG III and Andrew Luck, then perhaps the Rams would consider taking a quarterback here. But I think that Sam Bradford can be the guy for them at QB when he's healthy, which is why they have to place a huge priority on keeping Bradford upright.
Enter Matthews, who has the pedigree, work ethic, durability and skills as both a run- and pass-blocker to be a very good player for St. Louis. He has the versatility to be plugged in at right tackle on day one opposite Jake Long, and to eventually replace Long at left tackle. With a healthy Bradford and improved offensive line, the Rams could be really good next season.
3
Blake Bortles*
Oakland Raiders (4-10)
COLLEGE: UCF
AGE: 21
HT: 6-4
WT: 228
POS: QB
Analysis: The Raiders need to upgrade at the QB position, and even though he isn't the most well-known prospect, Bortles has the potential to be a top-10 pick. In fact, it wouldn't shock me if he ends up going ahead of Bridgewater.
Bortles has good size, arm strength and accuracy, and has proved he can win from inside the pocket. He also possesses good character and a strong football IQ. A nice bonus is that he's built to last in the NFL because he's big and mobile enough to move around. He isn't Cam Newton, but more of a cross between Joe Flacco and Ben Roethlisberger.
4
Johnny Manziel*
Jacksonville Jaguars (4-10)
COLLEGE: Texas A&M
AGE: 21
HT: 6-0
WT: 200
POS: QB
Analysis: This will be a tough decision. Jaguars head coach Gus Bradley is hoping to find a leader at QB who can elevate the whole team, the way Russell Wilson did with Seattle in 2012. Is Manziel that guy? I think the key for Manziel is going to be how he interviews. Some teams are going to fall in love with his confidence, whereas others will be turned off by him. One reason why I think Manziel fits in Jacksonville is that offensive coordinator Jedd Fisch has proved throughout his career that he can successfully adapt his system to his personnel, which is a must for any team that brings in Manziel, given his exceptional mobility and improvisational skills.
Manziel doesn't have ideal size, but I've been really impressed this season with how he improved his delivery mechanics to get better velocity on his throws, and his improvement at going through his progressions. If he can continue to develop in the NFL, he has a chance to be really good.
5
Jadeveon Clowney*
Atlanta Falcons (4-10)
COLLEGE: South Carolina
AGE: 20
HT: 6-5
WT: 258
POS: DE
Analysis: The Falcons are in dire need of an edge rusher, and in this scenario they'll get one in the form of our No. 1-ranked prospect in the draft. There's something of a gamble involved with Clowney in that his motor ran hot and cold toward the end of the season, but he isn't a bad kid and he has the potential to develop into a double-digit sack guy, a three-down lineman and a dominant player overall. I see a lot of Julius Peppers in him; Peppers hasn't always given the best effort, but I don't know of many teams that wouldn't want him. Clowney's a tremendous value if he drops this far; if it weren't for the number of QB-needy teams picking ahead of Atlanta, he'd go earlier.
6
Derek Carr
Cleveland Browns (4-10)
COLLEGE: Fresno State
AGE: 22
HT: 6-2
WT: 209
POS: QB
Analysis: Quarterback is the Browns' top priority. Offensive coordinator Norv Turner wants a QB with size and the arm strength to push the ball down the field, and that's what Carr provides. He is a little bit of a reach here, but there's a lot to like about his game. He had a monster 2013 season (4,866 yards, 48 TDs to just 7 INTs), is very accurate and has great touch on short-to-intermediate throws, has a high football IQ and gets the ball out quickly. He can improve his deep-ball accuracy, but has the arm strength to make all the NFL throws and the maturity and experience to come in and play right away.
7
Anthony Barr
Tampa Bay Buccaneers (4-10)
COLLEGE: UCLA
AGE: 21
HT: 6-4
WT: 244
POS: OLB
Analysis: We don't know if the Bucs will undergo a coaching change this offseason, but a.ssuming that Greg Schiano is still there, I think that rookie QB Mike Glennon will at least be given the opportunity to win next season's starting job. And in this scenario, there isn't really a QB prospect worthy of the pick here.
That will leave the Bucs with the tough decision of going for an offensive tackle in Michigan's Taylor Lewan or an edge rusher in Barr whom we grade out several spots higher. I think they'd go with the better player in Barr, even though he's not an ideal fit in the 4-3 defense Tampa currently runs. He's an eat-breathe-sleep football guy who is just starting to come into his own as a player, and it won't take him long to bulk up to 260 pounds if that's what the Bucs need from him. Even if he isn't able to play as many snaps as a rookie as you'd want from your starting defensive end, he'd still have an immediate impact as a pass-rusher.
8
Khalil Mack
Minnesota Vikings (4-9-1)
COLLEGE: Buffalo
AGE: 22
HT: 6-2
WT: 245
POS: OLB
Analysis: This is a tough one to project. Mack isn't a perfect fit for the Vikings' 4-3 defense, as his ideal position is that of a 3-4 outside linebacker. But Mack is one of the 10 best players in this draft class, and his versatility -- he can rush the passer, defend the run and drop into coverage -- and nose for the ball remind me of Clay Matthews. Minnesota GM Rick Spielman often preaches the importance of taking the best player available, and in this scenario, that's Mack. My guess is the Vikings would take him and use him as a pass-rusher early, and bulk him up over time so that he can eventually replace Jared Allen at defensive end. The Vikings have a need at QB, but there isn't one worthy of being selected here.
9
Taylor Lewan
Buffalo Bills (5-9)
COLLEGE: Michigan
AGE: 22
HT: 6-7
WT: 314
POS: OT
Analysis: This scenario works out well for Buffalo. The Bills need to upgrade the O-line and provide QB EJ Manuel with more time to throw, and Lewan could immediately help solidify this unit. Lewan isn't an exceptional athlete but he has enough quickness to get by when coupled with his physicality and mean streak. I've written a few times this season that even though Lewan doesn't always look like a prototype left tackle, he is very effective in run blocking and pass protection. Safety might be seen as a bigger need for Buffalo, but typically if you have a chance to take an offensive tackle over a safety in the first round, you do it.
10
Cyrus Kouandjio*
Tennessee Titans (5-9)
COLLEGE: Alabama
AGE: 20
HT: 6-5
WT: 310
POS: OT
Analysis: I don't think QB is an option for the Titans in this scenario, and that they'd be better off waiting for the second or third rounds to land a guy like LSU's Zach Mettenberger or Eastern Illinois' Jimmy Garoppolo. Alabama's Ha Ha Clinton-Dix would fill a need at safety, but I think they'd go for his Bama teammate Kouandjio and address their need at offensive tackle.
Kouandjio is not a finished product, struggling with his hand placement and against quicker D-linemen this season, but there's no denying his talent. He's 6-5, 310 pounds, moves well and is going to continue to get better. He's still relatively new to the sport (he was born in Cameroon and grew up a soccer fan) and has shown good improvement this season, so he has a high ceiling.
11
C.J. Mosley
New York Giants (5-9)
COLLEGE: Alabama
AGE: 21
HT: 6-2
WT: 228
POS: OLB
Analysis: The Giants need help on the offensive line, which is why Michigan's Taylor Lewan and Alabama's Cyrus Kouandjio will be options if they drop to them. But I actually think interior O-line is a bigger issue for New York, and when you draft this high in the order as rarely as the Giants do, you need to get more impact out of the pick than a guard.
The Giants have drafted just two linebackers in the first round since 1980 (Carl Banks and Lawrence Taylor -- I'm not sure why they stopped after those two), but Mosley is worthy of the pick. He's an every-down linebacker who excels in the passing game. His medical history might be a concern (dislocated elbow, dislocated hip, shoulder surgery), but if he checks out he's a good pick here. He has great instincts, good burst as a pass-rusher and can defend receivers one-on-one and cover a lot of ground in the zone.
12
Louis Nix III
Pittsburgh Steelers (6-8)
COLLEGE: Notre Dame
AGE: 22
HT: 6-3
WT: 340
POS: NT
Analysis: Nix might be a little bit of a reach here. He didn't have a great season in 2013 for the f!ghting Irish, and when NFL teams get a look at a couple of bad tapes of his play (he didn't perform well against Michigan State, in particular) his stock could drop. But I still have a hard time seeing him fall out of the first round, given the way he dominated in 2012. With his size and the way he can move, he has the potential to be a very good player. If the Steelers are comfortable with his durability and work ethic, he could become their new Casey Hampton. Offensive tackle and secondary are two other need areas they could address here.
13
Sammy Watkins*
New York Jets (6-8)
COLLEGE: Clemson
AGE: 20
HT: 6-0
WT: 205
POS: WR
Analysis: Some Jets fans will say that they need a QB, but they just took one last year in Geno Smith and they will (and should) give him time to develop. New York has good talent on defense, so the biggest issues to address are the offensive skill positions and O-line. Watkins is perfect for what the Jets need, a guy who possesses top-level acceleration and has a second gear when he needs it. Especially with Santonio Holmes likely gone after this season, the Jets need a vertical and run-after-catch threat, and Watkins could be a big difference-maker for them. At No. 13, he's a good value pick.
14
Ha Ha Clinton-Dix*
St. Louis Rams (6-8)
COLLEGE: Alabama
AGE: 20
HT: 6-1
WT: 208
POS: S
Analysis: This might be something of a reach, but I actually think that safety has taken on more importance with the increasing number of slot receivers and pass-catching tight ends. Clinton-Dix doesn't have elite man-to-man cover skills, but he has good range when asked to cover the middle of the field and very good closing burst. He comes in hard, blows up plays and isn't afraid to mix things up. He's exactly what you're looking for in terms of a complete safety, and he fills another need for the Rams.
15
Marqise Lee*
Detroit Lions (7-7)
COLLEGE: USC
AGE: 22
HT: 6-0
WT: 195
POS: WR
Analysis: The Lions could consider a cornerback here, but in this scenario with a top-10 talent dropping to No. 15, and Detroit needing a No. 2 receiver, Lee could be too tempting to pass up. Lee's game is built on speed, and he's a big-play threat as both a vertical route runner and with the ball in his hands. No, the Lions haven't had the best of luck with first-round WRs outside of Calvin Johnson, but when you consider that they have a QB in Matthew Stafford who excels as a downfield passer and they could open things up even more with a speed threat opposite Megatron, this pick begins to make a lot of sense.
16
Stephon Tuitt*
Dallas Cowboys (7-7)
COLLEGE: Notre Dame
AGE: 20
HT: 6-6
WT: 303
POS: DL
Analysis: The Cowboys' choice here could just come down to taking the best defensive player available, given the issues they've had on that side of the ball. But in particular, they need D-line help in a very bad way, and I think Tuitt would be an interesting fit. He makes the most sense as a 5-technique defensive end in a 3-4 alignment, but given his athleticism and quickness I feel as though he could also work as a 3-technique D-tackle who gets up the field and disrupts. Tuitt is still a work in progress, but his ceiling is awfully high. Florida State DT Timmy Jernigan is another option here.
2014 NFL Mock Draft - Todd McShay projects every first-round pick - ESPN